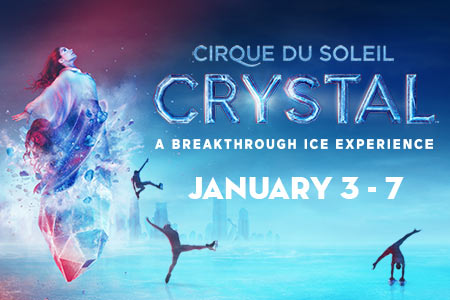 Cirque Du Soleil Crystal
A Breakthrough Ice Experience
Buy Tickets
Event Dates:

Jan 3rd @ 7:30 pm
Jan 4th @ 7:30 pm
Jan 5th @ 7:30 pm
Jan 6th @ 7:30 pm
Jan 6th @ 3:30 pm
Jan 7th @ 1:00 pm
Jan 7th @ 5:00 pm
Doors Open:
One Hour Prior To Beginning Of Show
On Sale:
Sep 22nd 2017 @ 10:00 am
Pricing:
$45.00 - $165.00
Buy Tickets
Seating Map:
Crystal is the first-ever experience on ice from Cirque du Soleil. World-class ice skaters and acrobats take their new frozen playground by storm with speed and fluidity as they challenge the laws of gravity with a flurry of unexpected acrobatics. A new kind of performance as Cirque du Soleil meets the ice.
This 42nd production fuses together circus arts with gliding and skating disciplines, exploring the linkages between these art forms through a journey of initiation and self-discovery.
Crystal, the show's main character sets out on an exhilarating quest to fulfill her destiny as she dives into a world of her own imagination. She soars through this surreal world at high speed to become what she was always destined to be: confident, freed, empowered.
Crystal is a misfit with her head in the clouds, a dreamer looking for something more in her life. One day, feeling misunderstood and out of sync with the world, she ventures out on a frozen pond and falls through the ice. In this underwater world of her own imagination, she has a vision: she sees a reflection of herself – her alter ego – that guides her, showing her a distorted version of her life. Her Reflection tries to wake her up to her own genius and creativity. Through her writing, Crystal releases the potential of her hidden talent and transforms the world around her at the stroke of her pen. Having summoned the strength to face reality, Crystal ultimately breaks through the ice again, stronger than ever.
The show Crystal is about looking at things from fresh angles, peeking through the veneer of everyday life, reframing one's daily reality to see what one might have missed. Sometimes the only way to appreciate things is to look at them sideways. Discovering one's individuality and uniqueness requires venturing out on thin ice.
Groups of 12 or more click here for discounted tickets