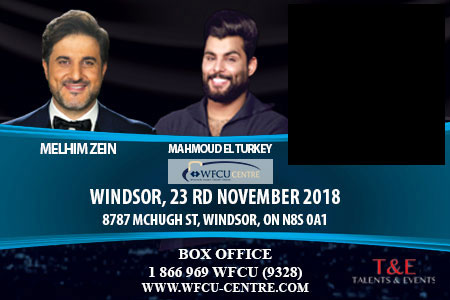 Mohammed El Helani, Melhem Zein, and Mahmoud Alturki
Presented By Talent & Events
Buy Tickets
Event Dates:

Nov 23rd @ 7:30 pm
Doors Open:
6:30pm
Pricing:
$157.00, $113.00, $90.00, $67.00 and $45.00 + Applicable Fees.
Buy Tickets
Seating Map: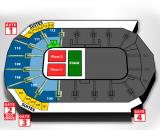 Talent and Events is proud to present Mohammed El Helani, Melhem Zein, and Mahmoud Alturki in concert at The WFCU Centre in Windsor, Ontario on Friday, November 23, 2018 at 7:30pm. Tickets for this event go on sale Friday, October 5, 2018 at 11:00am at The WFCU Centre Box Office, wfcu-centre.com or by calling 1-866-969-WFCU. Ticket prices for this event are $157.00, $113.00, $90.00, $67.00 and $45.00 + Applicable Fees.
Mohammed El Helani (born November 28, 1970, widely known as Assi El Helani (in Arabic عاصي
الحلاني ), is a Lebanese singer. Assi's musical career officially started after winning Studio Al Fan a TV program for young artists at the age of 17.[1] He has released more than a dozen albums. His biggest hits are Wani Mareq Mareet, Amshi Lihali, Mali Saber, Ahebbak Gedan, Ahla Al Oyoun, Shoag El Sahara, Lubnani , Bel Arabi and Kayed Ozzalak.[2] Assi El Helani has participated in numerous important musical events, including the Baalbeck International Festival, Jerash Festival, the Carthage Festival, and a number of concerts around Europe, the Arab world and America. Despite his soaring popularity, Helani has remained consistently involved in humanitarian issues. He regularly performs at fund-raising concerts throughout the Middle East in support of a range of charities in the region, including the Women's Development Association Hayati . In August 2005, Helani added his voice to the growing roster of celebrities helping WFP raise awareness about global hunger and poverty, recording a Public Service Announcement drawing attention to the tragic fact that 25,000 people die of hunger every day, 18,000 of the children.[3][4] Helani's recent music videos have earned him the reputation as an extremely talented actor. He is receiving numerous offers from Arab producers and directors for leading roles in different films and television series.
Melhem Zein is a Lebanese singer. He first came to prominence in the first installation of the TV show "Super Star", the Arab world's equivalent of "American Idol". Melhem Zein's Lebanese following became so intense that when he was voted out of the show, a large crowd demonstrated in Beirut in protest Melhem Zein, also transliterated Melhem Zain (Arabic: ملحم زين ) was born on October 21, 1982 in Shmistar, Lebanon. His stardom began after being ranked 3rd in Super Star 1, the Pan-Arab version of Pop Idol. Earlier, when he was 16, he first participated in an Amateur Singing Program called Kaas Al Nojoum (The Cup of the Stars) On LBC Channel for singing "Ya Jarat Al Wadi" (The Neighbour of the Valley) for Mohammed Abd El Wahhab. Melhem receives the title of Al Rayyes (The Boss) of the Lebanese folklore songs from George Ibrahim El Khouri and his fans for singing "Endak Bahriyya Ya Rayyes" for the Lebanese singer Wadi El Safi on Super Star. Now Melhem leads his own singing career. He has released two albums Enti Msheeti (2004) and Baddi Hibbik (I want to love you) in the summer of 2006. Both albums have enjoyed great success throughout the Arab world thereby solidifying Melhem as a star. Melhem includes Wadi El Safi, Mohammed Abd El Wahhab and Nazem Al Ghazali as his main musical inspirations.
Mahmoud Alturki a young Iraqi singer with promising future. His recent video clips on youtube caught some quite attention among the people in Middle East and around the world. His recent tour in USA was a huge success and he participated in several festivals. This show will be his first performance in Canada.