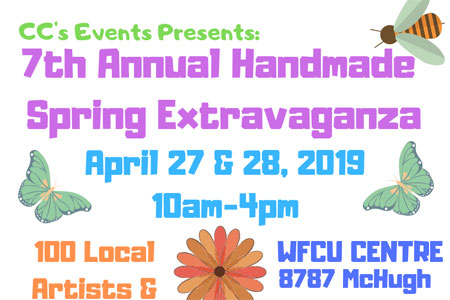 7th Annual Handmade Spring Extravaganza
Presented by C.C.'s Events
Buy Tickets
Event Dates:

Apr 27th @ 10:00 am
Apr 28th @ 10:00 am
Doors Open:
10:00am - 4:00pm
On Sale:
Apr 27th 2019 @ 10:00 am
Pricing:
Admission is Free, but donations to aid local school breakfast programs are appreciated.
Buy Tickets
Seating Map: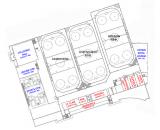 Spring is in the air! Bring your family and friends out to the WFCU Centre this Saturday and Sunday to experience the handmade & gift event of the season. The 7th Annual Spring Extravaganza will be sure to have the perfect Mother's and Father's Day gifts including home decor, bath & body products, jewelry, soy candles, wood crafts, gourmet food, and other great handmade items along with some great, unique items to treat yourself!
New this year: The 7th Annual Spring Extravaganza has moved to the Green Shield Rink of the WFCU Centre (Community Rinks Entrance). It will take place on Saturday April 27th from 10am-4pm and again Sunday April 28th from 10am-4pm. Admission to the event is free, however organizers encourage donations to local breakfast programs at the door.
Local breakfast programs help feed students breakfast and snacks to give them the energy and nutrition needed to start their day. Donations of packaged snacks like muffins, banana breads, granola bars, fruit cups, applesauce and other non-perishables would be greatly appreciated. All monetary donations collected at the door will be used directly to purchase gift cards for fresh fruit as well as various items and supplies the program needs.
In a little over 6 years, CC's Events has helped raise $35,000 cash plus many non-perishable food items, sleeping bags, toiletries, and other necessities for local charities with a total value of over $38,000. Charities included Street Help, Welcome Centre, Blue House, Windsor Youth Centre, Humane Society, Reach For The Skye, The Windsor-Essex Ice Bullets, CMHA Bereavement Group, Ten Friends Diner Mental Health Employment Association, and Local Breakfast Programs.
For the list of vendors that will be present at the 7th Annual Spring Extravaganza, visit wfcu-centre.com or check out the Event Page:https://www.facebook.com/events/402898887214939/?event_time_id=402898893881605