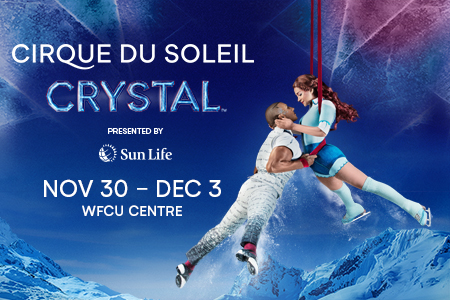 Crystal - A Breakthrough Ice Experience
Cirque Du Soleil
Buy Tickets
Event Dates:

Nov 30th @ 7:30 pm
Dec 1st @ 7:30 pm
Dec 2nd @ 3:30 pm
Dec 2nd @ 7:30 pm
Dec 3rd @ 1:00 pm
Doors Open:
One Hour Prior To Performance
On Sale:
May 2nd 2023 @ 10:00 am
Pricing:
$48.00 - $128.00 + Fees
Buy Tickets
Seating Map: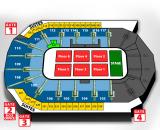 Cirque du Soleil's CRYSTAL – a one-of-a-kind production that brings the circus arts to the ice for the very first time, returns to Windsor's WFCU Centre from November 30 to December 3.
In addition to seven jaw-dropping traditional circus acts, CRYSTAL also features figure skating and extreme skating – two disciplines that have never been seen before in a Cirque du Soleil show.
Thrilling more than 1.8 million people worldwide since its creation in 2017, CRYSTAL blends the art of skating with adrenaline-inducing acrobatics and aerial feats. The show takes audiences on a whimsical journey into the vivid and magical imagination of the show's protagonist, Crystal.
"CRYSTAL pushes the boundaries of possibility of the circus arts and encourages audiences to find the magic in the everyday," says Robert Tannion, CRYSTAL's Artistic Director. "The show is all about shifting your perspective and looking at things from fresh angles – sometimes the best way to appreciate things is to look at it sideways or in Crystal's case, upside down! It's a magical story that really springs to life on the ice and we can't wait to bring it to Windsor again."
About CRYSTALCreated by Shana Carroll and Sebastien Soldevila, CRYSTAL takes audiences on an exhilarating journey of self-discovery full of whimsy and wonder. Feel your adrenaline soar as you dive into a world of playful imagination with the show's protagonist, Crystal, as she learns to see things differently and become who she was always destined to be – herself.
Using astounding on-ice visual projections – a Cirque du Soleil first – and a soundtrack that seamlessly blends popular music with the signature sound of Cirque du Soleil, CRYSTAL transports audiences on an unforgettable visual and auditory acrobatic experience.
The show is suitable for all ages.
Fun Facts
-  CRYSTAL is Cirque du Soleil's 42nd creation and the company's very first acrobatic experience on ice.
-  Since its creation in 2017, the show has toured to over 130 cities in 15 different countries including Canada, the US, UK, Mexico, France, Germany, and more!
-  This one-of-a-kind performance features seven traditional circus acts including trapeze, hand-to-hand, Banquine, aerial straps, hand-to-trapeze, juggling, and hand balancing – all performed on ice!
-  CRYSTAL is the first Cirque du Soleil production that uses real snow – the team makes approximately 300 snowballs each week.