Our Facilities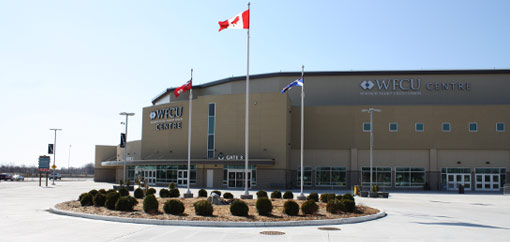 Integrating community programming and large-scale spectator events enables the WFCU Centre to focus on a diverse market of sports and entertainment enthusiasts, pre-schoolers, youth, adults, and seniors. The complex, located adjacent to a naturalized park, encourages and promotes a healthy lifestyle through cycling, sports and outdoor explorations in Little River Corridor.
The entire facility was designed to host special events, concerts and multi-level competitive tournaments. One facility with four rinks provides a convenient focal point for multi-day, multi-league events. The adjacent Community Centre includes a sports gymnasium, a leisure gymnasium and a reception hall.
The WFCU CENTRE SPECTATOR Arena
The spectator rink is a multi-use facility featuring a full service restaurant overlooking the spectator bowl, amenities to transform the facility into a concert and special event venue, plus a variety of seating options including luxury suites, upholstered stadium seating in the Platinum Club and general admission seating, all with superb views of the venue.
Other Features
Spacious concourse providing convenient access from entrance to seating, concessions, washrooms and other customer services.
5 Major food and beverage concessions.
Retail concession
Spacious club lounge and concourse with direct access to the club seating.
31 Luxury Suites with separate and exclusive access and concourse.
Exclusive home team locker room facilities with adjacent home team and arena operation offices.
Professional level back of house storage and service areas.
For event booking at the WFCU Centre, please contact Blair McGauchie, General Manager of Events at 519-974-7979 ext. 4611 or blair.mcgauchie@oakviewgroup.com
The WFCU Centre Promoter Guide is available upon request to the General Manager of Events.
Community Centre
The Community Centre within WFCU Centre offers a full range of leisure programs for pre-schoolers, youth, teens, adults and seniors. The programs are listed in the City of Windsor Activity Guide.
Amenities within the Community Centre include a regulation size sports gym, a leisure gym, and a reception hall in addition to various meeting rooms and program rooms. These facilities are available for private rentals and self catering is permitted. Please visit www.activewindsor.ca and choose the Facility Availability to view availability by location, day and time. You will need to call the centre to complete your room reservation for room availability by day and time.
Community Arenas
The Green Shield Canada Rink, the AM800 Rink and the Corporal A.P. Grenon & Canadian Veterans Memorial Rink are available for leisure rentals at WFCU Centre. Up-to-date information on available rental opportunities can be obtained by clicking on www.activewindsor.ca . Choose Facility Availability to view availability by location, day and time. You will need to call the centre to complete your reservation.
Public skating is offered at the WFCU Centre, note that some dates may be cancelled as a result of scheduled tournaments. Please call the facility for more information.
LIFE AFTER FIFTY
WFCU Centre features a partnership with Life After Fifty . Life After Fifty is located within the WFCU Centre and offers a wide range of programs for seniors in our community.